Note: The filling for this recipe yields a lot. You will need 2 recipes of the pasta dough.
Pasta Dough:
400g 00 Flour
4 eggs
Semolina for dusting
Pansotti filling:
300g fresh weight mixed herb leaves (such as swiss chard, spinach, watercress, marjoram, dandelion. Any combination)
600 g ricotta
100g grated parmesan
1 garlic clove, minced
1 egg
Pinch nutmeg
Salt & pepper
Walnut Pesto:
125ml milk
20g bread
130g walnuts
30g pine nuts
1 garlic clove
60g grated parmesan
Small bunch parsley
Salt & pepper to season
Olive oil
Basil & parsley, finely chopped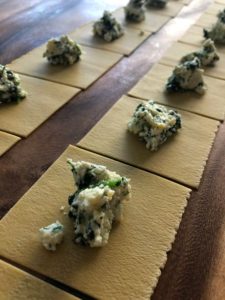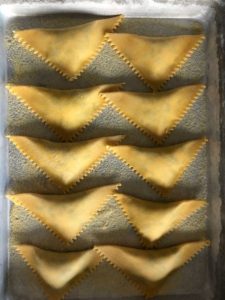 Directions:
Prepare the pasta dough: Dump the flour onto your surface of choice (ideally wooden or marble). Make a well in the centre and crack the eggs into the centre. Mix the eggs with a fork and very gradually add the flour to the eggs. If you have any excess flour that does not incorporate into the dough, leave it out. Knead the dough until it becomes smooth and silky. This will take around 7-10 minutes. Wrap dough in plastic wrap and let it rest for 30 minutes.
Put mixed herbs & leaves (not including basil) in a little water and blanch for 2 minutes. Drain and plunge in cold water for one minute. Drain again and place on a clean tea towel. Squeeze excess water.
Add the basil to the blanched herbs and chop finely.
Place herbs, ricotta, parmesan, garlic, egg, nutmeg, salt & pepper in a bowl and stir. Cover & chill in fridge until you use it. (Can be made up to one day ahead)
For the Pesto: Pour milk into a bowl & add the bread. Let it soften for 5 minutes.
In a food processor, add walnuts, pine nuts, garlic, parmesan & parsley. Blitz for 10 seconds.
Add softened bread and blitz for another 10 seconds.
Add a little olive oil until you reach a dropping consistency.
Taste & season with salt & pepper. If sauce is a little thick you can add a little pasta water later to loosen it. Leave pesto out at room temperature while you prepare pansotti.
Pansotti: Cut the past dough in half. Wrap the other half back up in plastic. If using a pasta machine, roll out dough to desired thickness. I prefer to roll out to number 6 with my Marcato machine for filled pasta. Take one sheet and cut even squares. I often use a ruler to make sure the squares are even. Place approximately one teaspoon of filling (or more if you want them bigger) on each square.
Place water in a small bowl. With one finger, wet edges of the square. Take one corner and fold over to opposite corner and seal. Repeat with the rest of the squares and pasta dough.
Place a large pot of water to boil. Salt well. Once the water reaches a boil, add pansotti. Allow pansotti to cook for 4-5 minutes.
Drain pansotti, reserving a little water.
Add pesto to the pansotti as well as some of the reserved pasta water to thicken.
Spoon into bowls and sprinkle with grated parmesan, chopped basil and parsley.