Potato gnocchi
Ingredients for 6 servings:
1000g potatoes
300g flour
1 egg
Salt
semolina for sprinkling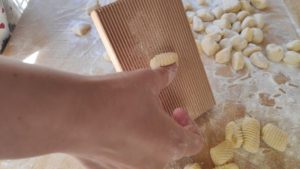 Directions:
Place the unpeeled potatoes in a large pot and cover with plenty of cold water. Cook them for about 30-40 minutes, depending on their size.
Peel the potatoes while they are still hot and mash with a potato masher, add flour, egg, and salt.
Knead with your hands until you get a soft but compact dough.
Take a part of the dough and roll it out into a long rope, about 2 cm wide. Put a tea towel over the rest of the dough so it does not dry out.
Sprinkle semolina on the pastry board if it is sticky.
Cut the loaves into pieces of about 2 cm. They can remain smooth, or by applying a slight pressure, they can be passed on a gnocchi board. Arrange the gnocchi on a floured tray.
Cook them in boiling salted water, putting them a little at a time and as soon as they rise, pull them with a slotted spoon and season them as you wish.
Enjoy Your meal!
Tips:
Gnocchi can be kept for 2/3 hours covered with tea towel. They can also be kept in the fridge but no longer than 3 hours because they tend to exude water and become mushy.
If not consumed immediately they can be frozen for later use. Arrange the gnocchi on a floured tray and place in the freezer for about half an hour. Then put them in the food bags. To cook them, simply throw them in boiling salted water without defrosting them first.
If you don't have a gnocchi board, you can use a fork.
Instagram: https://www.instagram.com/sanja_zlokapa/