Ciao Amici Gourmets,
today I offer you a recipe found in the bottom of a drawer, very homemade, breakfast braids to enjoy with your children in the morning, genuine and full of energy to face the day.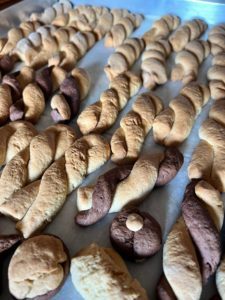 Ingredients:
500 grams of flour
125 grams of sugar
100 grams of butter
3 eggs
2 tea spoon baking powder
the zest of 1 lemon grated
milk to taste.
Method
Put everything in your food processor, start with sugar and eggs and then add the flour,melted butter, baking powder (I usually dissolve it in a glass of milk) and the lemon zest. If the dough is too thick correct it with milk because it should be soft.
After working the dough with your hands, proceed to make braids, place them on the baking sheet where you have arranged baking paper and bake them at 180° for about 20/30 min.
The secret is to see the color, as soon as they are pink it means they are ready!!!