Are you a foodie and go crazy for local gastronomic specialties?
There is no better place than coming to Bologna in Emilia Romagna, in Northern Italy, the capital of culinary specialties such as tortellini in broth, lasagne bolognese and tagliatelle al ragù.
There are thousands of typical dishes in Emilia Romagna that absolutely must be tasted so I recommend you take the first available flight to Bologna and spend a whole weekend here. I will be at the airport waiting for you.
If you want to come to Bologna on your own you can take a taxi from the airport to the center (approx. 16 euros) or the new elevated train called Marconi Express https://www.marconiexpress.it/ which takes you from the airport to Bologna central station in 7 minutes and the one way ticket costs only 8,70 euro. The service is active 365 days a year from 5.30 to midnight.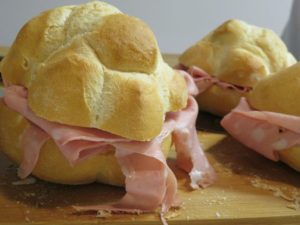 If you arrive at lunchtime we could go to the center of Bologna for a walk and a typical lunch in one of the oldest taverns in the city. In all the ancient "osterie" of Bologna only wine was served while food was brought from outside. The local specialties can be bought at the local "quadrilatero" market located in Via Clavature and via Pescherie Vecchie. A maze of narrow streets very close to Piazza Maggiore square.
So we can buy some sliced ​​mortadella (so typical to be called simply Bologna) at this  market and a piece of "crescenta ingrassata" (a kind of savory bread with pieces of pork inside) and simply sit at a table in this unique osteria where you can buy a glass of white wine called Pignoletto or a bottle of a good local red wine called Lambrusco.
In the afternoon we could stop for a coffee or a good gelato downtown. Yes, gelato!
Maybe you don't know but the Carpigiani company, the well-known factory that has been producing ice cream machines and equipment for years, is based in Bologna where you can find more than fifty wonderful ice cream shops called GELATERIE.
There are places where you can find organic ice cream or places where you can find the weirdest Gelato names in town but most of them are really very good. It all depends on what kind of flavor you like.
If you are crazy with dark chocolate, for example, I recommend the "Sorbetteria Castiglione" in via Castiglione (https://www.lasorbetteria.it/) because the owner is a fantastic chocolatier. If you like gelato made with organic milk, really natural, you can go to "Cremeria San Francesco" in front of the church of San Francesco, a tiny shop full of milk flavor!
But you can also decide to take a cone at the Gelateria "La vecchia Stalla" https://cremerialavecchiastalla-icecreamshop.business.site/ in via Santo Stefano a few steps from the church of Santo Stefano, one of the oldest in Bologna.
Remember the price of a gelato cone is between euros 2.50 and 5 euros.
If you come in the summer we could dine outdoor in the famous "Giardini Margherita" the "green lung" of this Medieval City which is famous for its porticos (25 miles of arcades), towers (more than 20 left) and the oldest University in the world.
SO WHAT ARE YOU WAITING FOR? Why don't you come to Emilia Romagna this summer?
FOR MORE INFORMATION ABOUT THIS REGION AND POSSIBLE EXPERIENCES to live here, check out  www.yourowntour.it and Cecilia, the local tour leader, could take you wherever you want to go!
Follow her  on Instagram too: Cecilia Alderighi Custom Tours