Ingredients
200 g flour: type 0
100 gr durum wheat semolina
100 gr black cabbage leaves (about 160 of fresh leaves)
1 egg
1 yolk
Filling
300 gr sheep ricotta
150 gr porchetta from Treviso
Parmesan
Chives
Salt and pepper
Preparing the pasta dough:
-Wash the black cabbage leaves, removing the largest and toughest stems.
-Cook them in water for about 3 minutes.
-Blend the cabbage leaves creating a puree
-In the pastry board, make a fountain with flour, add egg, yolk & pureed black cabbage.
-Start kneading first with a fork and finish with your hands, until you get a homogeneous mixture.
-Cover with cling film and leave to rest for at least 30 minutes.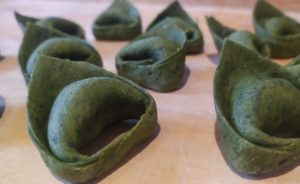 Preparing the filling:
-Cut the porchetta into small pieces
-Blend it in a blender.
-Add ricotta, chives, Parmesan & mix everything together.
-Season with salt and pepper.
-Roll out the dough with a rolling pin or pasta machine.
-Cut the pasta into 6×6 cm squares.
-On each square put a knob of filling.
-Fold the square along the diagonal to obtain a triangle, adhere the edges well to seal the filling & close the ends.
-To view the preparation & above all the closure of the tortellini go to YouTube: Buongiorno Italians.
Tips:
As soon as the cabbage leaves are cooked, pass them directly into the bowl with ice.
(important for adjusting the color)
Leave the tortellini ready on a floured cloth for about 1 hour before cooking them in boiling salted water
Season with simple melted butter, Parmesan cheese & chopped walnuts!
Instagram: https://www.instagram.com/sanja_zlokapa/