The culinary author Joanne (Giovanna) Mosconi is the daughter of legendary, New York City chef, Pietro Mosconi. ​ Let's discover how much her Italian heritage represents her in present and future.
Hi Joanne, tell us where your Italian family is from and why they decided to come to the USA?
Well, my father, Chef Pietro Mosconi is from a rural village, near Piacenza in the Emilia-Romagna region. In 1966, at the age of 17, he immigrated to America, along with my nonno Paolo, and began working multiple jobs so they could bring the rest of the family – his mother and six siblings – over to America. After years of working hard and saving money, my father's dreams came true, and at the young age of 26, he and his family opened their first restaurant in 1976 called: Villa Mosconi. My father immediately became one of the most talked about and sought out young chefs in New York.  A few years later they open their second restaurant: Monte's Trattoria. Both restaurants continue to be household names in The Big Apple for nearly over 40 years. The best part is, they are still operated by our family. This is no small feat after so many years!
How is your Italian identity present in your daily life?
As you can tell, I grew up in the restaurant business and therefore, food and family are at the heart of everything I do.  So much of my identity revolves around food, entertaining and of course living as an unstoppable, persistent, and passionate Italian New Yorker-just like my father. Food in our family has always been so important and is deeply rooted in our history, self-expression and, of course, love for family. I don't think there is anything we do that is not centered on a beautiful meal.
Tell us how you found your way back to your Italian roots.
 Even, if all in my life was about food, my work wasn't. Before I started a career in the culinary arts, I was directing and writing for the theater. The stage was my life and I never imagined shifting directions, but life has a funny way of surprising us. It was not until an unexpected tragedy happened that I returned to New York and my life changed.
My father had a life altering heart attack in 2015, and it was then that I made a promise to myself and to God that I would write my father's story. Let's just say this health scare was a wakeup call for me. At the time, I was living full time in Los Angeles, California, but my father's health pulled me back to New York part-time and sparked my motivation to finally focus on creating this book to celebrate him. The idea that one day my father would not be around, haunted me and so I knew I needed to write this book, or I would regret it.
Tell us about this book. How was the process to write it?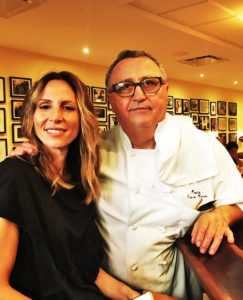 My Cookbook called: The Chef of Greenwich Village, was truly a labour of love, because my book contains all the secret recipes, as well as the Italian immigrant story of my famous, chef father. This book is a tribute to my father and radiates all his accomplishments and hard work.
The process of writing the book was a learning experience, but one which was not easy. ​ Chef Pietro started the process by saying to me: ​ "Non dici loro tutto!" meaning, "Don't tell them everything!" I had spent a large part of the journey arguing and pleading with him to share his recipes with me, but he was only interested in showing me. It was at this point, after chasing him around his restaurants with a notepad that I knew I had my work cut out for me. I enrolled at The International Culinary Center and received a professional culinary degree, which better prepared me to learn my father's techniques, recreate his flavors and prepare his remarkable dishes. ​
What does this book represent to you?
 This book was transformational for me in so many ways. ​ It not only contains my heart, but it has made me fall in love with Italy and my Italian American heritage. Although I am now full time in California again, and I spend most my time in my Malibu home cooking Italian recipes and sharing with my community why Italians Do it Better, I travel back to New York City as much as I can.​ I also vacation every summer in Italy and I have gotten to know so much of my father's country.​ My cooking is inspired from all the great food I had in different regions of Italy.​ One could never get bored when eating in a country where each region has their own cuisine.​ I am constantly learning more and more every time I visit.​ I would love to live​ in Italy one day.​
 What's the greatest outcome from launching your book?
Perhaps the greatest outcome my father and I had from launching our book is our Instagram Live Show every weekend, which is a cooking tutorial where my dad and I show you how to prepare dishes from our book.​ It is called Coast to Coast Kitchen, and the best part is my father is teaching me from his NYC kitchen how to make his signature dishes while I cook them from my Malibu kitchen. ​ I love that we have connected with people from all around the world who now make our dishes.​ Nothing gives me more joy then when someone posts a picture of one of our recipes and shares with us how much they enjoyed it.​ I believe you can see our love for one another and passion for food on our weekly show.
What is next for you?
I have a new book expected to come out this June sharing my tips for living the La Dolce Vita life, as they do in Italy. I will be announcing the title soon, so stay tuned. ​ This book was inspired by my lifestyle, which includes making a lot of homemade pasta. I am always questioned by people if I eat the pasta I make, and I never understand how anyone can ask me that.​ Of course I eat the pasta I spend time making with love.​ However, I know people ask me this because I am in love with fitness and stay in shape, despite all the beautiful Italian meals.​ In America, people associate pasta as cheating on their diets, and for me that could not be further from the truth.​ Pasta is a magical part of my life, and so my passion is to teach others if you are smart about eating pasta, your skinny jeans will still fit.​ The book will cover how I enjoy my food without deprivation.​ Life is too short to not eat the foods we love! ​
Mangia Bene Tutti!
Grazie a Giovanna Mosconi per l'intervista.
Instagram: http://@thechefsdaughternyc