SANJA 'S RECIPE
For 4 people:
 150 gr. of durum wheat semolina
 200 gr. of flour type 0
 2 medium eggs
 80 gr. of fresh pioppini mushrooms
 1 clove of garlic
 Salt, pepper, extra virgin olive oil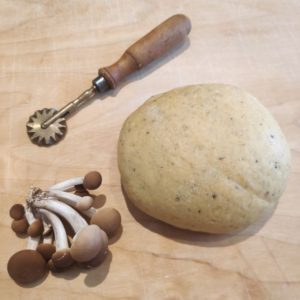 Preparation:
1. Clean the mushrooms and cut the larger pieces in half.
2. In a pan, sauté the garlic and add the mushrooms and cook them for about 10 minutes. Then, season with salt and pepper and eliminate the garlic.
3. Blend the mushrooms and put them aside.
4. Pour the flour onto the work surface, creating a hole in the center. Break and beat the eggs. Add the mushrooms.
5. Start kneading, first with a fork and then with your hands, until you get a dough homogeneous and smooth, it takes about 10/15 minutes.
6. Wrap the dough in cling film and let it rest for 20/30 minutes.
7. Flour the work surface and spread a thin sheet with the help of a pasta sheeter or with a rolling pin.
8. Cut the dough horizontally with the normal sprocket into strips of about 3.5 cm and then with the
sprocket vertically cut about 5.5 cm wide, obtaining many small rectangles (measurements may also vary based on your preferred size)
9. Place your index finger in the center of the rectangle, with your thumb and middle finger bring the two edges to the center and squeeze to create the shape of a butterfly.
10. Place the farfalle on a floured tray with semolina and leave to rest for at least 30 minutes.
11. Cook in salted boiling water for 3/4 minutes and season to taste.
A tip: you can substitute the type of mushrooms for others that are easier to get in your countries.