PIZZA: 
From the Neapolitan tradition to the symbol of Italy in the world.
From the beginning, pizza was very different from how we know it today. A disc of flour cooked in a wood oven and seasoned with garlic, lard and salt. It was only in the middle of the seventeenth century that the tomato becomes popular in southern Italy and marries the pizza.
The traditional "marinara" pizza was born in 1734 and was prepared with tomato, oil, garlic and oregano.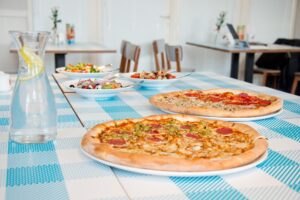 By 1750 Naples was a very populous city, people were looking for fast and nutritious food, and pizza spread among the working class. Ovens dedicated exclusively to cooking these discs of pasta spread quickly, so the first pizzerie, called pizzarie, were born. Here the pizzas were baked from early morning until late evening and sold on street corners. The Neapolitans used to eat it even cold, folding it like a wallet.
In a short time its spread & found great response even among the richest and noblest classes and even kings loved to consume it. In the mid-nineteenth century, pizza was already very popular in Naples and its surroundings.
It was with the first emigration of 1880, when the farmers of the south arrived in the factories of Northern Italy that the pizza spread also in the North. These desperate people in search of a new life brought with them not only their family, but also their traditions and their food.
An important date in the evolution of pizza is the 21st of May 1889, when in honor of Queen Margherita of Savoy went to visit Naples. The pizza chef Raffaele Esposito created a pizza topped with tomato, mozzarella and a basil leaf that recalled the colors of the Italian flag for her & that was when Pizza Margherita was born.
American pizza
The great migration that began after World War II led many Italians to emigrate to America and open the first pizzerias. It was an announced success because the American army had already known the pizza during the liberation of Italy from the Nazis-fascists.
To be more successful in sales, Italian Americans realized they had to adapt to the demands of an audience who did not see pizza as a poor food, but wanted to see pizzas rich in ingredients. The ingredients, the way it is prepared & cooked have undergone strong changes and as a result today pizza in the world has different versions becoming the best known food also through books, songs and movies.
December 7th, 2017 is another important date for pizza. The Unesco Committee for the Protection of the Intangible Cultural Heritage has recognized the value of pizza and its link to the city of Naples. Where it all began!