The Tigelle, more commonly called Crescentine or Crescenti, are a typical bread of the Modena Apennines, in Emilia Romagna region. It is a dough based on water, flour, yeast, lard and salt in a round shape, crunchy on the outside and soft on the inside.
They take their name from the mold in which they were cooked in the past, Tigelle precisely, refractory stone or terracotta disks of about 15 cm in diameter and the thickness of 1.5 cm.
The traditional cooking of the Crescentine was done in the fireplace alternating, the red-hot terracotta circles in the fire, with dough circles. The chestnut / walnut leaves were used to separate the dough from the terracotta and protect it from the ash, but also to give a particular aroma. A sort of tower formed with great skill and positioned itself beside the fireplace until the cooking was completed.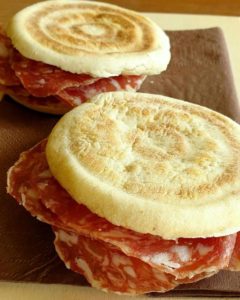 Usually the stylized drawing of a rose could be imprinted on the
tigelle
:
a symbol of life, fertility
and good luck
. So that during cooking, on the Crescentine, the drawing could remain imprinted.
It is traditional to consume the hot crescentina, half open and stuffed inside with the typical CUNZA DI MODENA OR PESTO, that is, a mixture of lard or bacon, mixed with garlic and rosemary, finely chopped and the final addition of Parmigiano Reggiano grated.
So scrumptious … which we recommend you to try!
Delicious with local meats and cheeses, delicious with jams and hazelnut creams.
Today Crescentina is considered a typical dish of our tradition, served as a main course or as a single dish, in many restaurants in the area. Or as street food in village festivals, cooked in special cast iron molds, called "Tigelliera", which maintain its fragrant and unique flavor unaltered and much more practical to use. There is also the electric version of the Tigelliera.
And how would you like to taste the tigelle…or rather crescentine?
GRANDMA'S RECIPE:
About 30 tigelle
500g Flour 0
7g Salt
220g Lukewarm water
60g Lukewarm milk
10g Brewer's yeast
50g Lard (pork fat) – or 40g Seed oil, for Vegetarian version
Dissolve the brewer's yeast in lukewarm water, mix all the ingredients, knead well and put in a plastic bag (without air) and leave to rise for at least 2 hours.
At this point, form balls with the dough and roll them with a rolling pin (dough height about 1/2 cm), with a diameter of 8 cm, "tigelliera" size.
If using the electric mould, make the desired size.
Bake, in the preheated tigelliera at least 10 minutes per side.
Cut the hot tigelle in half and stuff with cheeses, vegetables, compotes, cold cuts, vegetables in oil and pickled vegetables.
Buon Appetito
_______________________________________-
Would you like to make Tigelle with us?
Please visit the website –
www.tryandtaste.it
– Check "Specials … extra experiences: OUR TRADITIONAL BREAD".
Ready to put your apron? We can not wait to see you