She is a home cook, family lover & an ambassador of the Apulian tradition.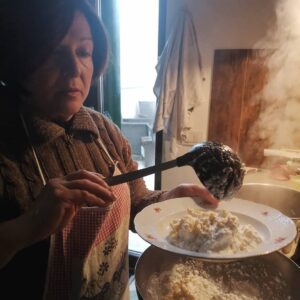 If you love cooking, you cannot visit Puglia without attending one of her cooking classes. She will host you in her trullo, in the Apulian countryside. You will be able to prepare fresh pasta by hand with her like orecchiette & other types as well. You can cook also the famous Apulian Tiella of rice, potatoes and mussels. You can prepare focaccia bread or lamb with baked potatoes and other regional recipes. She will always amaze you with all her Italian cuisine secrets & her sweet soul.
You can have lunch with her and her family enjoying the typical Italian Sunday atmosphere.
Write to us privately if you want to participate in a cooking class with her!