World-renowned Maestro Roberto Caporuscio began his authentic pizza-making skills straight from the source – Italy. Roberto was born and raised on a dairy farm in Pontinia, Italy where he first developed his culinary skills producing and selling cheese. It was, however, in Napoli, the birthplace of pizza, where he went to study the art and craft of Neapolitan pizza with the most talented pizza masters, including the best Neapolitan Pizza Masters. After training with the best, he established two successful pizzerias in Pittsburgh, Pennsylvania, then A Mano in Ridgewood, New Jersey, and ultimately in New York City in 2009 when he opened Kesté Pizza & Vino on Bleecker Street, followed by Don Antonio in Midtown in February, 2012. In 2017, Maestro Roberto Caporuscio opened famed location, 77 Fulton Street also named Kesté Pizza & Vino
– an incredible 10,000 square foot restaurant located near the South Street Seaport, Freedom Tower and the Brooklyn Bridge.
Chef Roberto has become one of the most highly praised pizza chefs amongst his peers and in the media, critically acclaimed as "#1 Pizza in New York" by New York Magazine, "Best Pizza" in New York State by Food Network Magazine and among the top 25 "Best Pizza Places in the US" by Food and Wine.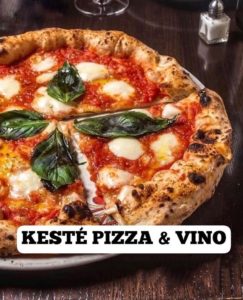 A passionate advocate of the Neapolitan Pizza Industry, Roberto served as U.S. President of
PAF – Pizza Academy Foundation
, the elite Italian governing body teaching the 300-year-old art of Neapolitan pizza making and certifies adherence to authentic procedures. The pizza maestro is called upon by numerous restaurants throughout the United States, for private consultations, and conducts an intensive, Ten Day Neapolitan pizza-making course at which he issues APN certification to aspiring Neapolitan pizza makers/restauranteurs around the world.
Since 2007, Maestro Roberto Caporuscio is the president of the APN (Associazione Pizzaiuoli Napoletani) and spreads the word for Neapolitan Pizza in the USA.
He has guided and consulted to help open over 75 pizzerias in USA. He has personally certified over 310 new pizzaiuoli and certificated them in the USA and in 11 other different countries.
​
Currently, Roberto is the president and owner of Kesté Pizza & Vino (Restaurant) where he teaches the art of pizza making at the 77 Fulton St Pizza school. Roberto has been on countless television programs including The Food Network, NBC NY, NY Post, Thrillist, Grub Street, Eater, Time Out, Fox, Bloomberg, Conde Nast Traveler, Secret NYC, The NY Times and many more.
He has developed a complete line of Gluten Free & Vegan Pizza + items like Gluten Free Lasagna, Arancini and more that are critically acclaimed and known in the food industry as "the best in the business". Recently, Roberto launched the Kesté frozen line of premium, gourmet Authentic Wood-Fired Neapolitan Pizza that continue in the tradition of using the finest Italian ingredients. Once baked in the oven, the taste is undeniably delicious and fresh – "you can not taste the difference between my fresh and frozen pizza", says Roberto Caporuscio. "We have blind-folded some of our guests at many tastings and they cannot tell them apart". Kesté customers are indeed thrilled to know they can now buy Kesté Pizza and have it shipped directly to their homes. Available at kestepizzeria.com and thebitelife.com.
Roberto started focusing on delivery and frozen pizza during the COVID crisis. Now that New York is opening up and people are going out more, the frozen part of his business is still popular with customer interest increasing in home-based delivery. "I think people have gotten use to delivery of all kinds and rightfully so, there is something to be said about convenience and delivery to your home". Keste prides itself in shipping to its customers around the country and maintains its integrity in quality ingredients and keeping with the tradition of the finest Neapolitan Pizza making techniques so Keste customers can enjoy in their homes across the USA. When in NY though, Chef Roberto enjoys creating an environment where customers can
transport themselves to Italy. The space is sophisticated, casual and thoroughly Italian.
The expansive space, with windowed doors onto the street, has 150 seats, and is decorated with aged woods, Amalfi coast ceramics, "Lecce stones," and copper, to emulate the style of the 1800's, remembering the old authentic Neapolitan Pizzeria. The inspiration behind the restaurant's design came from a rare copy of the book "Usi E Costumi di Napoli e Contorni" written by Francesco de Bourcard published in 1866, including details on how pizzerias were structured and decorated at the time.
Kesté Pizza & Vino offers over 70 types of Neapolitan pizzas, all original creations by Maestro Pizzaiuolo Roberto Caporuscio, signifying his knowledge of the history, the authentic tradition and the evolution of Neapolitan pizza. In his unique offering, Maestro Caporuscio also added 7 different types of fried pizza, 18 types of gluten free pizzas or the most famous Pizza Margherita made with all organic ingredients including flour, cheese and sauce, and 20 seasonal pizzas representing the different regionality of Italy's cuisines. The attention to the ingredients, the selection of high-quality Italian products and the wine collection made up of a top variety of high quality, premium Italian wines complete the Kesté experience. "The door is always open
and I welcome my customers as friends for an authentic Neapolitan Pizza experience" – Maestro Roberto Caporuscio.
_________________________________________________________________
Un ringraziamento speciale va a Monica Prestia per aver reso possibile questa pubblicazione: