This hand rolled long tube shaped pasta is as rustic as it gets, originating in Calabria.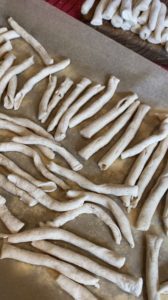 It's made by wrapping dough around a thin wire rod called a ferretto. In the past I've seen a bike spoke and knitting needle used. This simple pasta dough is traditionally made from only flour and water. Now we like to add olive oil and salt. 
My nonna would make this pasta so frequently, that we started calling it Maccheroni di Nonna. I remember for special occasions or gatherings in the summer my nonna and the ladies in the family would all come together to make a large quantity. When it came time to cook, the pasta was put into a pot of boiling water that was over a large fire. The pasta was then tossed in a simple sauce made from fresh tomatoes.
3 cups of semolina flour
1 cup of lukewarm water, extra may be needed
2 tablespoons of olive oil
Salt to season 
Put flour and salt in large mixing bowl or directly onto a clean surface, make a well in the center. 
Add wet ingredients to well and mix together with a fork. Pull in only a small amount flour at a time so it mixes evenly.
As the dough starts to come together remove from bowl, and knead on a lightly floured surface. Continue to kneading for about 10 minutes as the dough becomes smooth. Cover and allow to rest for 30 minutes. 
Once the dough rested cut the ball into 4 pieces. Take the first piece and cut that into 4, and begin to roll dough by hand into it a long and thin log shape.
Cut off 2 inch pieces, and gently roll the ferretto across each piece of dough. The piece of dough will flatten out and wrap itself around the ferretto. Creating a tube, use hand to roll ferretto making the pasta long. 
Slide pasta off and continue process with all the dough. 
INSTAGRAM: https://www.instagram.com/tarabasta_ballan/