Everyone loves Italy (particular Americans) and rightfully so. Italy is where you can find the best food and wine, beautiful art, architecture, and history – and some of the most amazing people in the world.
That notorious Italian hospitality is something that really must be experienced first-hand. As is the Italian food.
A native New Yorker (born and raised in Brooklyn), Italy was in my blood. And being a third-generation Italian American, I have been in love with the Italian culture for as long as I can remember. I'd always dreamed of living in Italy one day, but it wasn't until my first visit to Rome during a college study abroad program back in 2006 that it turned into reality for me.
It took a while to bite the bullet but exactly 10 years later I found myself quitting my job in the fast-paced world of advertising, selling all of my belongings and buying a one-way ticket to Italy.
Why did I come to Italy?
Too many reasons to count. Yes, I obviously wanted to have access to the delicious Italian food and wine on a daily basis. But for me it was a bit more than that.
I wanted to go back to my roots, to reset and start a new life. I wanted to find my passion again – find my balance. And I definitely came to the right place. The Italian people have taught me many valuable life lessons. The biggest one being…slow down! Enjoy life every day – even if it's for a few minutes every day.
Whether it's taking a long walk or coffee break or spending time eating with family and friends. You don't have to wait until retirement (or those 10 measly paid vacation days) to start enjoying your life.
That 'live to work' mantra that seems to dominate other cultures is quite the opposite here. Not to say
the Italians don't work, it's just that they work in order to live, and not the other way around. The most
important things in life aren't things – they are people. And also maybe food.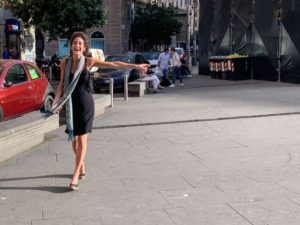 The secret of La Dolce Vita isn't necessarily the art of doing nothing. It's finding the enjoyment of just being.
Because these are the moments where life happens. As one wise Italian said to me once: "that work email or trip to the bank can wait until tomorrow, but you can only have one lunch a day.' So what are you doing here?
This also took me a bit of time to figure out. I had to follow the breadcrumbs is the expression in English, but I finalized realized what I wanted to do in life. To connect those visiting this beautiful country to the people of Italy through authentic Italian experiences, places, food, and drink.
During my research for another project all together, I realized that most of the experiences that were out there were not authentic at all. And almost none of them involved an actual Italian local. And so I was moved to find the real version of every experience listed in Rome, and Davvero Rome was born.
photographer: Kathy Karn