For two years now I've been going around Bari to discover places where you can eat well and I must say that they are often scattered throughout the city but it is rare to find three grouped within a few minutes that summarize the true essence of Bari street food.
This little guide will take you inside the old city of Bari called Barivecchia and in just two streets you will discover the art of the true street food of this beautiful town, the one made with passion for years (in one even a hundred little completed) that carry on traditions and recipes handed down from grandmothers, mothers and aunts. The three places that I have chosen (although they are known) are not and perhaps will never become commercial and social, they are places where even the dialect is spoken and where tourists are  loved and welcomed with great heart.
We will walk together along two streets where you can taste one of the best Focaccia of the city, the best sgagliozze and one of the best panzerotto.
If I allow myself to write and recommend places is because I personally have repeatedly tried them
and they meet my personal taste but I am sure you will not be disappointed.
This tour starts from Corso Vittorio Emanuele, cross the street and head towards the oldtown passing through the arch of Strada San Giuseppe; after about 50 meters on the left you will find Strada Bianchi Dottula and at number 8 you will arrive at the bakery Santa Rita considered by many as one of the best in town that this year celebrates 100 years of activity.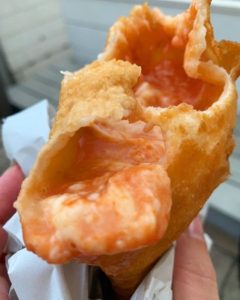 Do not panic because of the queue that you might find the service is fast and above all the focaccia is always hot and wait about ten minutes armed with number is really worth it. Order € 1 of focaccia barese and eat it walking down the street; after a few meters on the left you will cross one of the most famous streets of Barivecchia Largo Albicocca.
Enter this street until you get to a small square that to say delicious is little adorned with lights in the evening lit, give a romantic touch. In fact, a few years ago this square has been nicknamed Piazza degli Innamorati.
Here we will find the last two places of our mini tour.
The pizzeria Di Cosimo where you will taste the fried panzerotto with mozzarella and tomato that costs only € 1.50 but that will give you great satisfaction because always nice stuffed so be careful when you eat it you risk burning yourself. Remember that to eat the panzerotto without burning yourse if just bend slightly forward and move your hands and the panzerotto away from your body as much as possible, doing so you will not get dirty.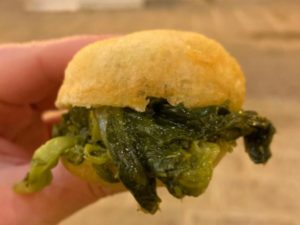 On the right of the pizzeria you will see a house with umbrellas in front of it and a stove with large pots full of oil large pots full of oil and a counter with polenta, you have arrived at Donna Carmela's that serves you the best "
sgagliozze
" (squares of fried polenta) of the city.
With only € 1 you will have a hot bag of sgagliozze well salted and if you are lucky you can also see some scenes of family life in pure Bari dialect between her and her husband.
We have come to the end of this mini tour as you can see in just 200 meters and with only €3.50 you will not only have fed yourself but you will have had the opportunity to taste a real street food experience.