I have always been fascinated by the poppies that grew along the countryside of my land. Today I decided to recreate this image as if it were a painting on a focaccia, what do you think? You like it?
Ingredients 
Flour (W 260) 700g
Flour (type 0) 300g
Salt 20g
Water 800g
Fresh yeast 7g or 180g of mother yeast 
Oil 20g
Procedure
Mix the flour and yeast in a bowl, add 700 g of water (cold) and stir until all the water is absorbed. Remove the dough from the bowl and knead until a compact dough is obtained. Put the dough back into the bowl and divide into small sections. Pour over the mixture salt, oil and the remaining part of water and continue to work energetically to make the ingredients absorb. Let it sit for 20 minutes.
After resting, transfer to the surface and proceed with the reinforcement folds to make it smooth and elastic again. Place the dough in a bowl and when it has almost doubled, place in the fridge for 24 hours. Then form the balls (about 250g) and once doubled, roll them out, add your favorite flavors and bake them at 300 degrees or at maximum of your oven.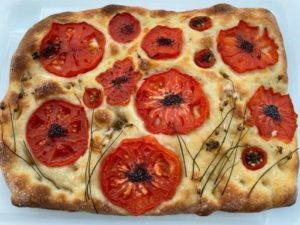 Recipe by https://instagram.com/mariassuntagentile?utm_medium=copy_link