Hasn't it happened to you that by visiting a place, you feel like staying there forever?
Well, that's exactly the feeling you get when visiting the charming town of Ceglie Messapica. It is a paradise for people who like to visit authentic places that are little crowded by the tide of summer tourists.
Located in the heart of the Valle d'Itria in the province of Brindisi. This town is famous for its excellent gastronomy, its fields full of "trulli" -type houses, and its secular olive trees.
The advantage of staying in this small town in the interior of Puglia is that you will always find availability and good value for money in restaurants, hotels, and bars. All this because it is not a frequent destination in summer because it is not a coastal city.
Here is a tour that we suggest you take if you have the good fortune to visit Ceglie:
1. Stay in a house in the historic center (it will not be difficult to find one at a good price on
Airbnb!)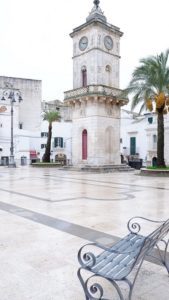 2. Hang around and admire the beauty of the Ducal Castle of Norman origin up to the square La Torre Civica dell Orologio.  Local people of all ages gather here to see their friends or family to talk about anything and everything! You will be speechless like us, when we saw the elegance and the cure with which the elderly dress, a whole fashion runway; it seems that we are in a movie from the 50s.
3. Continue along Corso Giuseppe Garibaldi until you reach the famous Caffè Centrale where you will find the delicious biscotto medievale cegliese. If you come here and do not eat one of their famous cookies, you cannot say you have been to this city. It is a mandatory stop!
4. For lunchtime, nothing better than eating authentically in a small restaurant or osteria in the city. Among the best are Osteria Alla Gallina da Giuseppe (Via Malta, 12), Locanda la cucina della Nonna (Via Orto Nannavecchia, 4), Ristorante "Frammenti D'itria" (Vico III Monte, 28).
We recommend these three since we know a good friend who is originally from there and without a doubt, like most Italians, he is a good connoisseur when it comes to gastronomic quality.
5. After everything you have eaten, you will need to digest! Nothing better than walking through the streets and alleys of this medieval city. There you will feel that time stops, admire the church of San Rocco, the church of Sant'Anna or the church Matrice, etc. We assure you that at that moment you will know what "dolce far niente" means.
​
To conclude we can say that Ceglie Messapica has the power to enchant you in every little corner that you visit. Above all, the best thing about this city is the kindness and warmth of iits people.