Sometime around 1930, Natale Tarantino, a handsome, strapping young Sicilian from Palermo, Sicily, made his way across the Atlantic with his fiancée and her brother, landed at Ellis Island, and decided to make Bensonhurst, in Brooklyn, New York his new home. There were many other Italians settling in this area at the time, and it was a predominantly Italian neighborhood.
He worked hard, saved up, bought a nice home for him and his wife, and opened up a fish business in Bensonhurst, Brooklyn, which was where he met my grandmother, Ann. She was almost 20 years younger than he was, and married with 2 boys. Her husband was working abroad in a field office for the army the year they met.  Natale had no children, as his wife couldn't conceive. Natale fell for Ann at first sight, courted her, and before long the two had fallen in love. She soon got pregnant – a baby boy, my father – and Natale, excited at finally having the son he'd always dreamed of, asked her to leave her husband so they could raise him together as a family. However, Natale didn't want her other two boys – so she refused, staying with her husband and ending the affair, which she kept a secret from everyone. Their illegitimate son, my father, who was the spitting image of Natale, got to know his father over many weekends spent helping him at work, special visits with the man he grew up believing was his uncle – an uncle who only had interest in him. Years later, it was my mother who, after hearing so many stories about this "beloved uncle" who seemed to have only spent time with my father, started to put the pieces of the puzzle together and after seeing a photo, realized this must have been his father, not an uncle as he'd believed for so many years. My father confronted his mom, and she told him the truth, the story of their affair, and told him  she'd always remained in love with Natale, up until the day he'd passed away from cancer when my father was in his early 20's.
My mom recalls a dinner out in Brooklyn with the son of Natale's sister, Anthony Lamandri, shortly after they'd married and my mom had pieced together this mystery. It seems everyone in Natale's family knew about my father, and they all recalled how in love Natale was with my grandmother. My father learned that Natale had actually left everything to him when he passed away, but his wife had contested it, and my father never got anything. He'd had no idea. My father never introduced us, and didn't stay in touch with anyone from Nat's family. The knowledge of the affair had opened up many wounds in my father's family, and it was maybe easier for him at the time to distance himself from things. Many from his mom's family and her husband's family chose to cut him off when they learned he was illegitimate.  He'd not known any of Natale's family as a child either, so he didn't reach out to any of them. And this is why my siblings and I never got to know the Italian side of our family.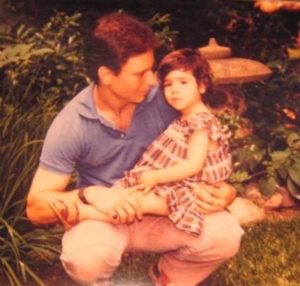 As kids growing up my father would regale us with stories about how he'd spent summers as a teen working with his father, shucking oysters for Natale's customers, learning how to make coffee on the Italian stovetop moka as his father did, (which we in turn learned as well from our father, in fact we never made coffee any other way) watching Natale at work selecting fresh fish to sell. Apparently Natale was known in the neighborhood for his strength, and my father would tell us how Natale had been so strong he'd sling a giant tuna over his shoulder from the delivery truck and carry it to the shop on his own, while the delivery men stood in shock and awe.
We grew up knowing about Nat, our biological grandfather, who'd passed before any of us were born, and always wondered why we had a different last name from the rest of my father's family. When we were old enough to understand, we were told about this history, and the affair. My father had long felt like he didn't belong in his family, long before discovering the truth about his father. He looked nothing like his brothers, and at some point in his late teens he'd decided to change his last name. Not knowing at that point in time who his real father was, he'd chosen the name of a local musician he admired, who, like him, played electric bass guitar. This is how we wound up with the last name Rainy. If he'd known who his real father was at the time. it's likely he would've chosen the name Tarantino instead.
INSTAGRAM:https://instagram.com/geneviev212?utm_medium=copy_link