Neapolitan Style, Wood Fired Pizza Restaurant
289 Fifth Avenue, Park Slope – Brooklyn New York
Owners, Jerald Gralto, Andrew Puca, and Manuel Gregorio are lifelong friends that came together to combine their inspired passion for Italian food and Neapolitan cuisine to open Tutt'Appost in April of 2021.
Tutt'Appost is located on 289 fifth Avenue in Park slope, Brooklyn, is a Neapolitan and Italian style wood-fire pizza restaurant and bar utilizing authentic, natural ingredients.
The wonderful Tutt'Appost Pulcinella Mural at the entrance of the restaurant is a Neapolitan classical character who is depicted in history as a rebel, and whose goal is to rise above his station in life. He is a Napolitano mascot that the owners admire. Painted by @jDPAINTZ and
@artbyBash
the Pulcinella Mural is a nod to17th Century Neapolitan Puppetry.
The three partners, Andrew Puca, Manuel Gregorio, and Jerald Gralto are very passionate about their Italian roots and strive to deliver authentic flavors in Tutt'Apposto's Neapolitan cuisine. Staying true to their heritage Tutt'Appost modern classic menu includes favorites:
Seafood Tiella, Gnocchi ala Sorrentina, Wood Grilled Salmon, Paccheri ai Funghi and Pizza Specialties like Cappello di Totò (Margherita pizza with ricotta filled crust, fior di latte, and spicy soppressata), Stella Pizza – a Margherita Pizza with prosciutto with arugula, shaved parmigiano, balsamic reduction and ricotta filled crust. Top shelf bar with premium wines from Veneto, Abruzzo, Piemonte and Mendoza. Delicious, Creative cocktails Aperol Sprits, Elderflower Spritz, Sangria ++.
Pasta All Ruota – or cacio e pepe is one of their favorites – the cheese wheel pasta is made tableside mixing their freshly cooked pasta in a hollowed pecorino cheese wheel enjoyed by patrons on Wednesdays.
Manuel, is from Napoli, Italia and is very passionate about Pizza Napolitano. His pizza delights the senses – he is able to deliver a light and airy delicious pizza dough that transports you to the beautiful port of Mergellina. His 48 hour rising dough recipe makes for a perfectly thin and light crust that leaves just enough room for his decadent and mouth-watering Nutella calzone and tiramisu! Manuel's motivation has taken him very far – his first job New York as kitchen help, to now owning multiple restaurants is an inspiration to us all.
Andrew, whose life long dream was to own a beautiful and successful restaurant, is also from Naples. He adds his own authentic style while also adding his own creative twists to make each dish one of a kind. His motivation and headstrong attitude bring leadership while his sense of humor delivers a sense of comfort and home, creating friendships and bonds with practically everyone he crosses paths with.
​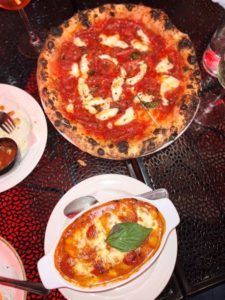 Jerald, who was born into the restaurant business, is an expert in all things! From business decisions to making the uniquely perfect old-fashioned recipe, his kind and extremely approachable nature is exactly what every restaurant needs to not only be successful, but to accomplish a vibe for customers to feel invited.
The three make for the ideal trio of partners, bringing in their own rare qualities and ideas to formulate a well-oiled machine while becoming the classic family owned restaurant that they are all passionate and thrilled to share with everyone!
The restaurant is a beautiful, modern classic with design and style featuring Neapolitan art throughout the restaurant and a beautiful full bar + outdoor heated patio in the back – seating 60 indoors and 35 in the backyard. Sophisticated and stylish Tutt'Appost makes guests feel relaxed, welcomed and at home with their delectable Neapolitan Cuisine. Tutto Posto at Tutt'Appost.
Buon Giorno Italians!
Contact
Monica Prestia
monica@stefanistyle.com
917.658.8600