Ciao a tutti,
Christmas continues to remain a special holiday in the Palmisano Family. Born and raised in the home owned by our immigrant grandparents (Ferrante & Palmisano) from Rodi Garganico, holiday traditions instilled within us are carried on with pride and joy; both in our homes and at IL TAVOLO DI PALMISANO in Hoboken, NJ.
Christmas Eve in particular stands out in my mind. I can quickly smell the aroma in my olfactory bulb of various fish being prepared by the matriarchs of our family. It was a feast of fish to delight in. God forbid you ate meat! LOL!!! These same recipes are now prepared and served at our restaurant. The menu includes: Insalata di Mare, Bacalà Salad, Clams Oreganato, Fried Smelts, Fried Whiting, Shrimp Oreganato, Stuffed Calamari, Stuffed Lobster tails, Snails (Lumache) in a red sauce, Broiled Eels (Anguille).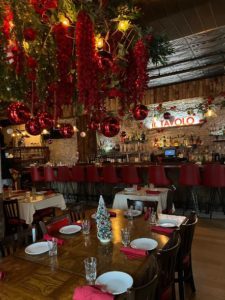 The Feast of Seven Fishes always turned out to be more than seven! It must be an Italian thing! And of course the table would not be complete without pasta. Our customers have the opportunity to savor the delights of their choice from a special Christmas Eve Menu. The Palmisano Family wishes all of you and your families a very Blessed and Merry Christmas! Buon Natale! Dio vi Benedica!
Thank you again for this opportunity! Buon Natale!
Con Affetto,
Pietro Palmisano
INSTAGRAM: https://instagram.com/il_tavolo_di_palmisano?igshid=YmMyMTA2M2Y=