Basilicata is a region of Southern Italy. It is also known historically as Lucania, due to the tribe that inhabited the area from times before the Roman Empire. This southern region has practically everything, from mountains, natural parks with rivers and lakes, to beautiful paradisiacal beaches.
This region has cities declared UNESCO Heritage and unique archaeological sites in the world. Join us to explore this region little known by tourists where you will find authentic Italy that you are looking to discover:
OUR RECOMMENDED TRAVEL ITINERARY: 
Travel back in time to Matera "Città dei sassi (city of stones)
Unfortunately, the region does not yet have an airport, but that's not a problem because Bari airport is only an hour away from Matera. You can even use public transport, there are buses that connect both cities for prices between 6€ to 11€.
Once in Matera, you will practically be open-mouthed in this city. Declared UNESCO Heritage in 1993. Its entire historic center is built in stone & even has an inside cave that has been inhabited since prehistory.
We recommend you stay at least 3 days here and visit this city full of churches and history. Don't forget of course to buy their famous DOP (Protected Designation of Origin) Matera bread.
Nature & Adventure in the National park of Pollino
This natural park is the largest in all of Italy. Here, fun is guaranteed amid unspoiled nature and wild landscapes. It is full of lakes and mountains ideal for rafting and trekking. You can stay in one of the magical towns of Pollino or choose a refuge immersed in the mountains. We recommend that you stay in the heart of Pollino at the Agriturismo Il Giardino degli Dei.
Its owners Giuseppe and Maria are very friendly and welcoming. This agriturismo also has a restaurant that offers dishes of the typical Lucan tradition. It starts with rich "antipasti" of salumi, cheeses, and mushrooms. Then it continues with a "doppietta" of primi piatti based on porcini mushrooms, fried breadcrumbs, and typical cruschi peppers. Finally, you can also ask for a good barbecue. Here is their contact information: 0973 93037 info@giardinideglidei.it we have been there more than five times & we always want to return.
A Happy Ending on the Beach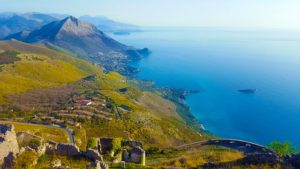 To finish with a flourish, nothing better than spending a few days at sea in the beautiful city of Maratea. This place deserves to be visited. Here you can find Cala Jannita beach, also known as 'Black Beach,' due to the color of its sand. When you arrive in Maratea, don't forget to visit the characteristic historic center & all its old churches. As you can see, Basilicata is a region that has it all!