Alberobello in fiat 500
Nostalgia for the 50's is back, the "dolce vita" is present, not only in fashion, but it has practically become a lifestyle. Some towns in southern Italy retain this classic charm that will no doubt never go out of style. If you want to live an experience that immerses you in this old fashion style, we suggest you to rent a Fiat 500
car and visit the beautiful town of Alberobello and its surroundings.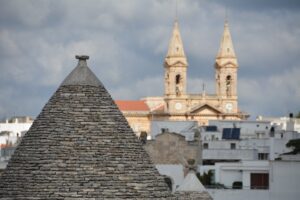 This beautiful place is an UNESCO heritage site. It is distinguished not only by its charming Smurf-style houses, but also by its excellent gastronomy and traditions. Alberobello, is located in the heart of the Itria's Valley in Puglia, famous for its wine, salami and refreshing climate in summer. Every year, the city of the "trulli" receives thousands of visitors who are fascinated by its architectural beauty.
            Our suggested route in the Italian boot heel:
1 – Start your tour by renting an old Fiat 500 with our friends from "Renthere" who has the best prices in Monopoli (Via S. Vincenzo 13). Monopoli is a coastal town that is only 22km from Alberobello. Drive about ten minutes south, along the Adriatic Sea and reach the Capitolo area. Where, if you wish, you can start the day with a sunbath on a magnificent beach with crystal clear waters like the Caribbean.
2 – Direction Alberobello, drive your magnificent old fashion Fiat 500 for approximately 25 minutes to the city of trulli, eat in one of its famous restaurants, we advise you to go to Casanova Restaurant (Via Monte S. Marco, 13) or if you are a vegetarian you can choose, as Madonna did when she visited these lands, Terra Madre restaurant (Piazza Sacramento, 17).
3 – Nothing better than to end your "arduous" day than to sleep in a "trullo", an old country construction of Mediterranean origin, cool in summer and warm in winter.
4 – But of course, if you still have energy left at the end of the day and want to have a romantic wine tasting, you absolutely must go to the Albea wine cellar and museum, located at via Due Macelli 8 – Alberobello.
Well, all you have to do is pack your bags and come to Puglia to have a magnificent travel experience.